I AM ELEVATING IN ALL WAYS
13.07. – 12.08.2022
An exhibition in three Elevations
Elevation I: 13.07. – 21.07.
Elevation II: 25.07. – 01.08.
Elevation III: 04.08. – 12.08.
Open Mon – Sat, 12 – 20 h
Lichthof Ost in Humboldt-Universität zu Berlin
Opening 12.07., 18 – 22 h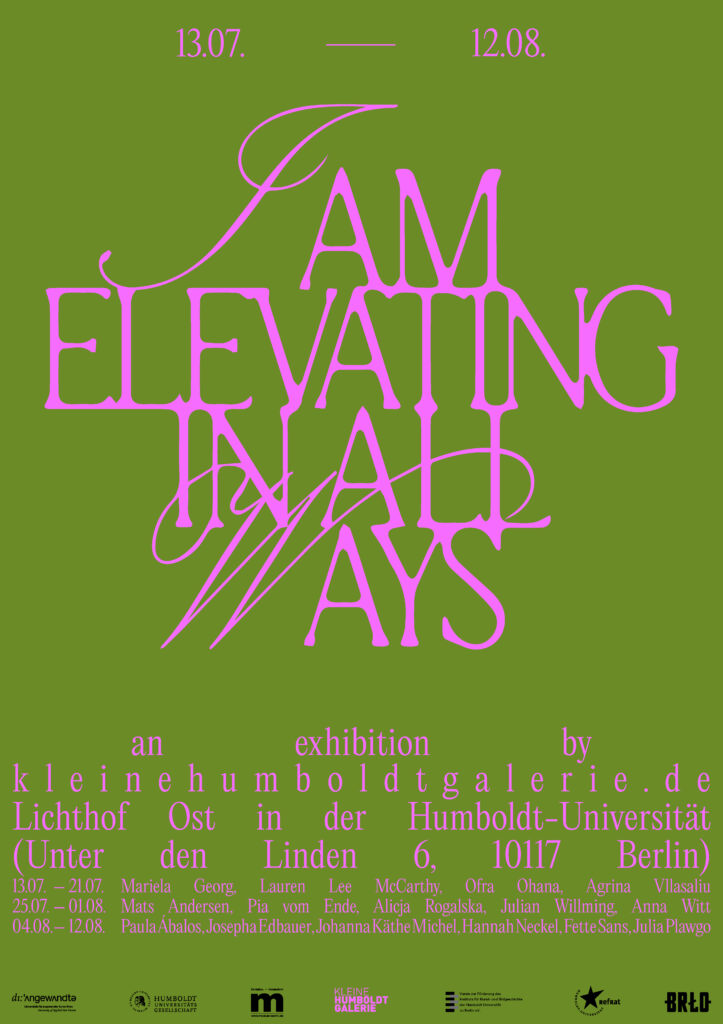 13.07. – 21.07. | Elevation I: Bedroom
Mariela Georg, Lauren Lee McCarthy, Ofra Ohana, Julia Plawgo, Agrina Vllasaliu
25.07. – 01.08. | Elevation II: Office
Mats Andersen, Pia vom Ende, Alicja Rogalska, Julian Willming, Anna Witt
04.08. – 12.08. | Elevation III: Gym & Wellness
Paula Ábalos, Josepha Edbauer, Johanna Käthe Michel, Hannah Neckel, Fette Sans
I AM ELEVATING IN ALL WAYS – Self-optimisation as a contemporary phenomenon.
Building a steel body in the gym, getting up at 5 a.m. and walking no less than 10,000 steps a day. Stressed, for having only three internships on the resume, and for not having traveled to all continents. Why do we always want more? Where does this diffuse fear come from? That we are not enough, and that we are able to do better, someway, always?
In the most varied dimensions of life, we are constantly urged to optimise ourselves through digitalisation, quantification, and the pressure to be productive, to perform, and to be efficient. I AM ELEVATING IN ALL WAYS explores the question of how the individual and social phenomenon of self-optimisation is articulated in different spaces. Against this background, our exhibition presents various approaches and motivations of self-optimisation in all aspects: efficiency, exhaustion and overload. 
International and local positions will be displayed in an immersive manner. Three social spaces – the bedroom, office and gym – will be outlined in three phases as examples of different  facets of self-optimisation. In each of the phases, up to four artistic positions will be shown in the same space, the Lichthof Ost. The exhibition space, therefore, will be reconstructed twice throughout I AM ELEVATING IN ALL WAYS, accompanied by mediation areas with seating and information material where visitors are invited to linger and read.
During the exhibition, the Lichthof Ost in the main building of the Humboldt-Universität zu Berlin will become a place for communication and relaxation. Additional to the exhibition there will be lectures, performances and creative workshops, offering alternatives to the compulsion of self-optimisation.
Program
Openings
12.07., 18 h: Opening Elevation I: Bedroom
25.07., 18 h: Opening Elevation II: Office 
04.08., 18 h: Opening Elevation III: Gym and Wellness
12.08., 18 h: Finissage
Activation of the exhibition (Taking place in the exhibition if not specified otherwise)
15.07., 20 h: Reading Critical Wellness: der Link zwischen politischem Aktivismus und Self-care with Mariela Georg (DE)
25.07.,  20 h: Lecture Performance Beyond Mental Growth Infrastructures: Archetypes, Identities and Collective Frameworking with Julian Willming
04.08., 17 h: Live Installment Iron Gym with Johanna Käthe Michel 
04.08., 20 h: Screening The Invisible Cloth von Paula Ábalos at Mediatheater, Georgenstr. 47
05. + 06.08. 12 – 20 Uhr: Performance The bitter ends of (the technologies of tenderness) by Fette Sans
06.08. 20 Uhr: Performance NON-PLAYABLE CHARACTER by Julia Plawgo in the Atrium of the Pergamon Palais, Georgenstr. 47
Workshops in the exhibition
13.07. from 16 h: Textile workshop – Patching together with carefulness 
27.07. from 13 h: Workshop – The Dream™️ A heavenly co-working experience 
10.08., 16 h: Zine Workshop – Bombshell Bikini Beach Body
The visual identity of the exhibition was designed by Marina Engelhardt.
The exhibition has been made possible by the generous support of: AStA TU, Universität für angewandte Kunst Wien, Humboldt-Universitäts-Gesellschaft, Module Spezial-Gerüstbau GmbH, RefRat, Verein zur Förderung des Instituts für Kunst- und Bildgeschichte der Humboldt-Universität zu Berlin e.V.