10.09.2022 – 01.01.2023
An exhibition of painting students of weißensee kunsthochschule berlin under the direction of Prof. Pia Linz and Petra Trenkel, curated by the Kleine Humboldt Galerie at ZAK – Zentrum für aktuelle Kunst in the citadel Spandau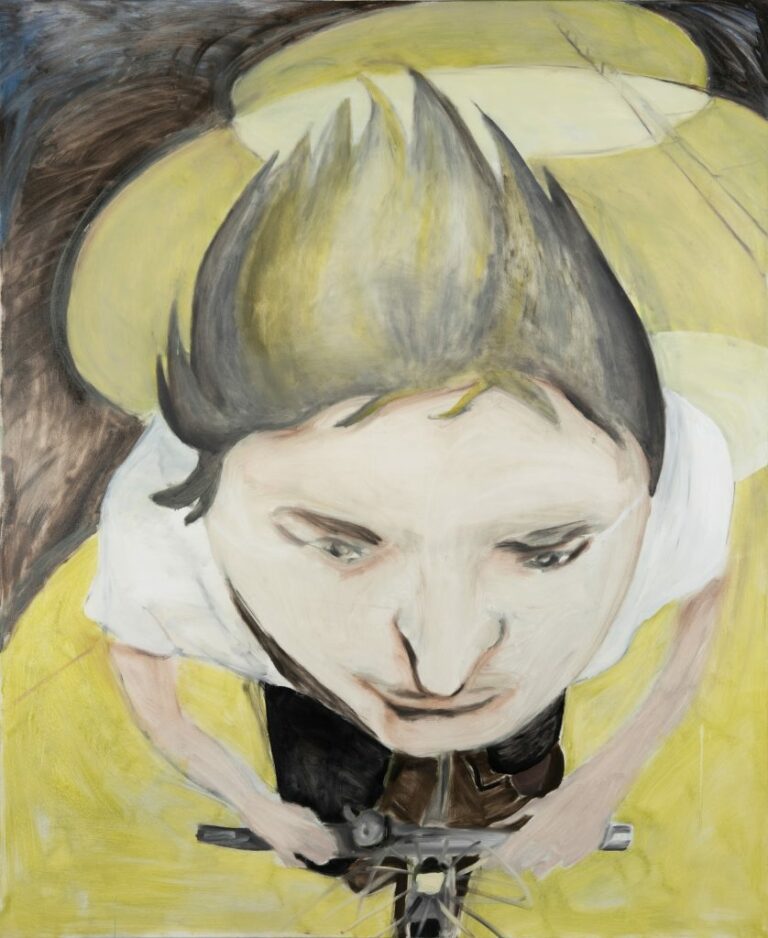 The big city has long been considered a center of the avant-garde and a constant source of inspiration for artists. Its appeal is fed by extremes: Berlin as the epitome of coolness, recklessness and freedom. Living in a big city offers distraction and full days. However, the impressiveness of Berlin's size and speed can also cause instability or insecurity. In addition to its sheer size, Berlin stands out for its diversity, expressed in its many smaller city centers, diverse population, and never-ending streets.
For one semester, students in Prof. Pia Linz's and Petra Trenkel's group at the Weissensee School of Art intensively explored precisely this multifaceted richness of the big city. Through excursions and guest lectures, they sharpened their view of the city and reflected the impressions and observations gained in their works. The resulting group exhibition at ZAK – Center for Contemporary Art was curated by the student initiative Kleine Humboldt Galerie.
The exhibition BIG CITY BABY now brings the big city into the small city, the Zitadelle in Spandau. In the sensitive interplay of the works, one experiences the city through the eyes of the young Berlin artists. Visual reflections on urban life grow here in various disciplines, are linked with other thematic areas and sometimes exaggerated to the point of absurdity. Thus, not only formal experiments are realized in the works, but also a wide range of themes – some of them autobiographically tinged – are touched upon and examined: Youthfulness in the city; the metropolitan area as an excessive demand as well as a place of retreat; the city as a home for the (self-chosen) family; exploration of urban nature and vacancy, et cetera.
The slogan-like title BIG CITY BABY offers space for the multitude of positions of this exhibition. It has no fixed meaning and yet everyone knows what is meant. It is not a quotation, but one nevertheless thinks to have heard it somewhere before. From a passing convertible on the Kudamm or at night on the subway track. BIG CITYBABY is a shout, a whisper, a vibe. You understand it, or you don't. You can't escape BIG CITY BABY, just like you can't escape the big city.
Program
Fri, Sept 9, 2022, 7pm For the exhibition opening, the Citadel will be the venue for a concert evening with the punk bands Die Verlierer and Egon X and DJ VTZN.
Sun, Oct. 9, 2022, 4 pm A literary trail that takes in the exterior of the Citadel invites visitors to discover hidden corners of the fortress as well as the exhibition.
Thu, Nov 10, 2022, 6pm-8pm A catalog will be published and its release will be celebrated and accompanied by a program of content.
Artists
Imad Alfil / Mel Antiers / Laura Mercedes Arndt / Müge Bakir / Leonie Behrens / Benjamin Berkow / Hannes Berwing / Noé Borst / Paula Breuer / Seonah Chae / Alanna Dongowski / Lunita July Dorn / Sofia Efremenko / Anna Eigner / Philipp Ernst / Maria Felsmann / Johanna Hemming / Leyla Kampeter / Nazlı Karaturna / Vivyan Klemke / Christopher Krause / Marcin Łaszczewski / Jung A Lee / Sunkyu Lee / Zoë Mauritz / Felix Mehlig / Anna Luca Mogyorós / Janine Muckermann / Helena Ommert / Frida Ortgies- Tonn / Richard Paul / Katharina Reinsbach / Janosch Sinn / Lili Theilen / Friederike Toeppe / Lars Unkenholz / Oskar Zaumseil
Special thanks to Prof. Pia Linz and Petra Trenkel, Dr. Ralf F. Hartmann, Dr. Jens-Ole Rey and Maria Weber.